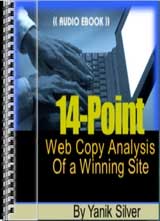 Download the 14 Point Web Copy Analysis of a Winning Site by Yanik Silver
This is a "talking ebook" where Yanik walks you through the 14 points you need to include in any sales letter that you create.
It is a (PDF File) and the link opens in a new window. You can click to open it now, or right click the link and choose "save target as" to save it to your computer for later.
Tags: copywriting, yanik silver, sales letter, sales copy, web copy, free ebook